The picture is undeniably healthy. The registrars reported 34,931 transactions in September, and a total of 103,516 in the period July – September 2016 (Q3), a rise of 11.2% versus 2015.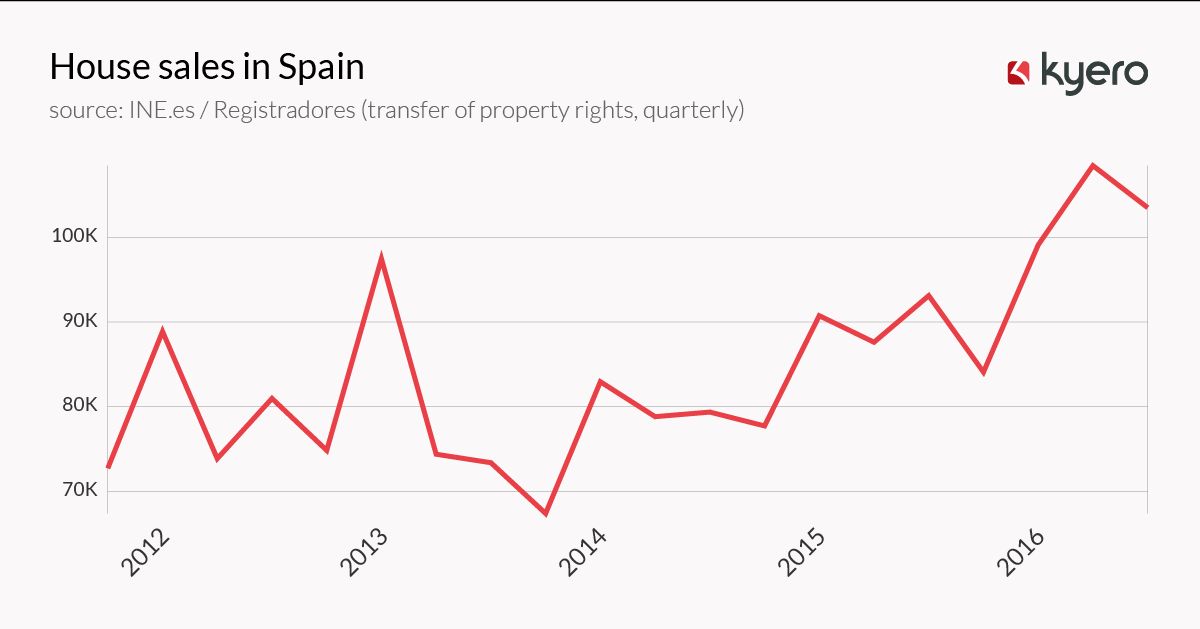 In case you thought it was a blip, this also marks 10 consecutive quarters of annual growth. 2016 has been the best year to sell houses in Spain for a very long time.
Alicante province is the bellwether for foreign activity, both by volume and buyer ratio (over half of all house sales here go to international buyers). Therefore it's positive news for the entire market to see a 7% annual rise there.
The following are all Q3 sales by province, also available direct from INE.es.
| Province | Q3 2016 | Q3 2015 | Change |
| --- | --- | --- | --- |
| Madrid | 14,913 | 13,214 | ▲ 12.9% |
| Barcelona | 12,601 | 9,815 | ▲ 28.4% |
| Alicante | 7,898 | 7,388 | ▲ 6.9% |
| Málaga | 6,573 | 6,515 | ▲ 0.9% |
| Valencia | 5,381 | 4,949 | ▲ 8.7% |
| Balearic Islands | 3,537 | 2,755 | ▲ 28.4% |
| Almería | 3,497 | 1,810 | ▲ 93.2% |
| Seville | 3,302 | 3,081 | ▲ 7.2% |
| Murcia | 2,954 | 3,109 | ▼ 5.0% |
| Las Palmas | 2,549 | 2,610 | ▼ 2.3% |
| Santa Cruz de Tenerife | 2,444 | 2,008 | ▲ 21.7% |
| Tarragona | 2,385 | 1,969 | ▲ 21.1% |
| Girona | 2,383 | 1,960 | ▲ 21.6% |
| Cádiz | 2,352 | 2,686 | ▼ 12.4% |
| Biscay | 1,972 | 2,082 | ▼ 5.3% |
| Zaragoza | 1,964 | 1,810 | ▲ 8.5% |
| Granada | 1,820 | 1,832 | ▼ 0.7% |
| Castellón | 1,701 | 1,652 | ▲ 3.0% |
| Asturias | 1,584 | 1,416 | ▲ 11.9% |
| A Coruña | 1,422 | 1,298 | ▲ 9.6% |
| Cantabria | 1,306 | 1,152 | ▲ 13.4% |
| Guipuzkoa | 1,277 | 1,217 | ▲ 4.9% |
| Toledo | 1,232 | 1,184 | ▲ 4.1% |
| Navarre | 1,184 | 1,049 | ▲ 12.9% |
| Córdoba | 1,130 | 1,106 | ▲ 2.2% |
| Pontevedra | 1,106 | 979 | ▲ 13.0% |
| Huelva | 1,091 | 1,019 | ▲ 7.1% |
| Valladolid | 1,010 | 934 | ▲ 8.1% |
| Badajoz | 986 | 829 | ▲ 18.9% |
| Jaén | 866 | 807 | ▲ 7.3% |
| Lleida | 786 | 757 | ▲ 3.8% |
| Burgos | 698 | 818 | ▼ 14.7% |
| León | 687 | 609 | ▲ 12.8% |
| La Rioja | 632 | 642 | ▼ 1.6% |
| Ciudad Real | 617 | 547 | ▲ 12.8% |
| Guadalajara | 552 | 573 | ▼ 3.7% |
| Cáceres | 527 | 457 | ▲ 15.3% |
| Salamanca | 517 | 457 | ▲ 13.1% |
| Álava | 497 | 496 | ▲ 0.2% |
| Albacete | 487 | 481 | ▲ 1.2% |
| Huesca | 447 | 421 | ▲ 6.2% |
| Lugo | 393 | 447 | ▼ 12.1% |
| Segovia | 352 | 362 | ▼ 2.8% |
| Ourense | 350 | 330 | ▲ 6.1% |
| Palencia | 274 | 308 | ▼ 11.0% |
| Zamora | 262 | 208 | ▲ 26.0% |
| Ávila | 236 | 226 | ▲ 4.4% |
| Cuenca | 226 | 254 | ▼ 11.0% |
| Soria | 174 | 153 | ▲ 13.7% |
| Teruel | 169 | 166 | ▲ 1.8% |
| Melilla | 127 | 128 | ▼ 0.8% |
| Ceuta | 86 | 40 | ▲ 115.0% |
Bron: Lees het volledige artikel "Who's winning the post-Brexit sales race" op Kyero